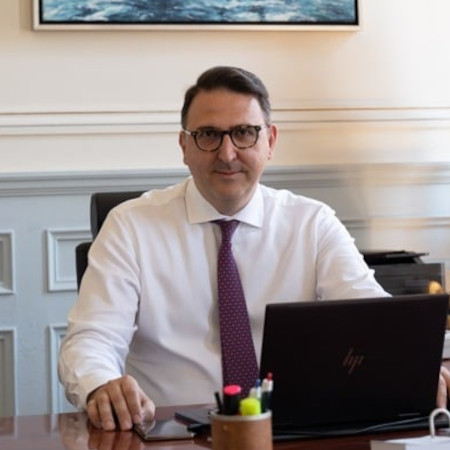 Konstantinos Tsagkaropoulos
Governor at Greek Seamen's Pension Fund (N.A.T.)
Konstantinos Tsagkaropoulos is a lawyer, who graduated from the National and Kapodistrian University of Athens Law School. He is highly experienced in the areas of control and supervision of Banking Institutions and Public Entities, Public and Private Partnerships, Public Contracts, State Aid Law, Tax Law, Banking Law, State Guarantees, Development Law, Social Security Law, Employment Law, EU Law, Administrative Law, Civil Law, Criminal Law, Commercial Law and GDPR.
Since April 2021 he is the President of NAT (Greek Seamen's Pension Fund) and since January 2020, an adjunct lecturer in "Public Law and Social Insurance Law" at the Department of Law of European University of Cyprus. In the past, he has held the offices of Vice Chairman of the board of Attica Bank, Deputy President of e-EFKA, Legal Representative Rank A' at the Legal Council of the State and Legal Advisor to the Hellenic Ministry of National Defence, the Ministry of Development and Competitiveness, the General Accounting Office of the State, the Ministry for Employment and Social Protection and the Ministry for Agricultural Development and Food.
He was also an elected Member of the Municipal Council of Amarousion during the period 20/9/2019- 28/4/2022 and an elected Member of the Piraeus Bar Association's Council during the period 1/1/2018 – 30/8/2019.