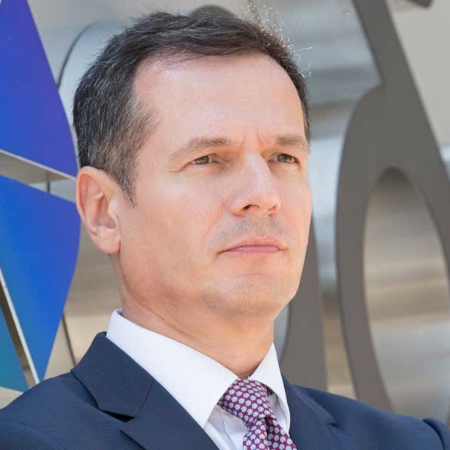 Chairman & CEO, Independent Power Transmission Operator S.A. (ADMIE) Representative Heron Group
Mr Manousos Manousakis, before joining IPTO as Chief Executive Officer, had served as the CEO & legal representative of special purpose vehicles OTE Rural North & OTE Rural South. OTE Rural North & OTE Rural South are subsidiaries of the OTE Group, with the subject of providing telecommunications services to the wholesale market. In the past he has served as a member of the Board of Directors of OTE SA, and was appointed in administrative positions in the OTE Group.
In 2015 he was appointed General Secretary of the Ministry of Economy, Infrastructure, Shipping & Tourism. During his term he served as Director of the Board of Black Sea Trade & Development Bank. From 2012 to 2014 he held the position of Special Policy Advisor at the Hellenic Parliament on Ministry of Development matters.
He has also worked as an advisor in telecommunications projects for public and private entities, including to PPC SA, Attiki Odos SA and the University of the Ionian Islands, and has provided consulting services to Attika Telecommunications SA for the development of a fiber optics and telecommunications services network.
He holds a PhD and a Degree in Electrical Engineering from the National Technical University of Athens.
During the 2005-2006 period he worked as lecturer in the University of Piraeus and in 2007-2010 at the OTE Academy.
He also participated in the design of a metropolitan Ethernet network which earned an award from the Metro Ethernet Forum and in European and in Greek research programs, and has published an invited paper in the Journal of Lightwave Technology.