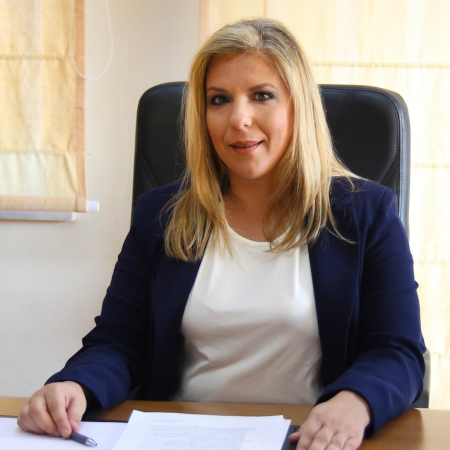 Deputy Minister, responsible for the Demography and Family Policy
Maria Syrengela is the Deputy Minister of Labor and Social Affairs, responsible for the Demography and Family Policy.
Prior to her current assignment she was appointed Secretary-General for Family Policy and Gender Equality (July 2019-January 2021), while she still serves as Vice President of the Women of the European's People Party (EPP Women). She has also held the position of the vice president of KETHI (Research Center for Gender Equality) from 2013 to March 2015.
From 2001 to 2005, Ms. Syrengela had held the post of Vice-President of the YEPP (Youth of the European People's Party) and served as YEPP Representative in the Western Balkan Democracy Initiative and the Southeastern European Forum, at the same time.
She was formerly a member of the Executive Bureau of ONNED (youth organisation of the New Democracy), in charge of International Relations (2001 -2004 ) and a member of the Central Committee of the party (1998 -2005). Additionally, she was a candidate with the New Democracy in the 2004 European Elections.
She is a graduate of the School of Philosophy of the University of Athens. She also holds a Master's Degree in Business Administration for Executives from the Athens University of Economics and Business (AUEB), with her thesis focusing on the Policy and Strategy of New Public Management.
Furthermore, Maria Syrengela has served in key positions, both in private and public sectors, specializing in human resources and she is a Member of the Economic Chamber of Greece. She speaks English, French and Turkish.
She is married to Fotis Kyriakopoulos, Civil Engineer, and she is the mother of two children, Vasilis and Konstantinos.