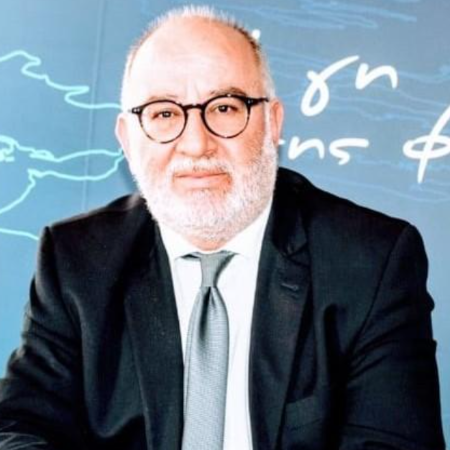 Panagiotis Sakellaropoulos
Authorized Advisor, Assistant Regional Governor with responsibilities for Planning, Studies and Development Programs of Agri-food
Authorized Advisor/ Assistant of the Regional Governor with responsibilities for Planning, Studies and Development Programs of Agri-food, coordination of the productive classes for issues of cooperative agricultural policy in the producer groups of P.E. Achaia and responsible for Land Improvement issues of Achaia, Former Chairman of the Economic Committee and Deputy Regional Head of Economic Policy and Αadministration of the Region of Western Greece
Panos Sakellaropoulos is Authorized Advisor/ Assistant of the Regional Governor of Western Greece, with responsibilities for Planning, Studies and Development Programs of Agri-food, coordination of the productive classes for issues of cooperative agricultural policy in the producer groups of P.E. Achaia and responsible for Land Improvement issues within the boundaries of P.E. Of Achaia.
He originates from Peristera of ​​Nonakrida of the Municipality of Akrata and lives permanently in Patras. 
He is Elected Regional Councilor from 2011 and in 2019 was elected in the Regional Elections for the third time with the combination of Nektarios Farmaki's "OLA APO THN ARXH", having achieved first place in the previous two.  He has been Chairman of the Economic Committee and Deputy Regional Head of Economic Policy and Administration of the Region of Western Greece from 2019 to January 2022.
He is an executive in the Independent Public Expenditure Authority (AADE) -Ministry of Finance.
His studies concern the Marketing – Management and the European and Greek Culture of the Hellenic Open University.
He has been a close associate of Distinguished Elected Representatives of the Greek Parliament from 1989 to 2018.
He has worked in companies in the private sector.
He has a rich social and political activity and is active in trade unions (President of DAKE Tax Office and General Secretary of the Association of Tax Office Employees Achaia – Ilia – Zakynthos and Kefallinia).
His interests in addition to his involvement with the public, include music, theatre, hunting, mountaineering, chess, reading, horseback riding and football.