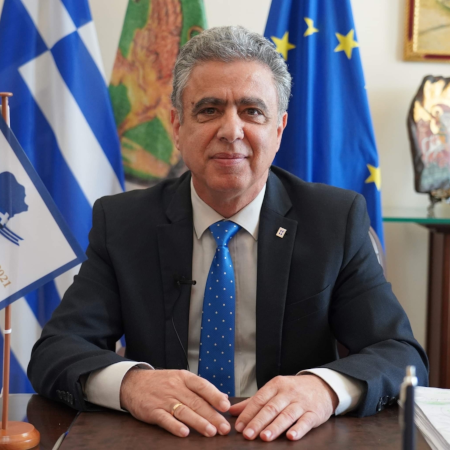 Mayor of the Municipality of Chios
Stamatis Karmantzis was born in Karyes, a village of Chios in 1954. In 1974 he graduated from the Six-Grade High School. Until 1978 he was an Officer of the Merchant Navy and then, after graduating from the Armor School, he served as a Reserve Lieutenant Colonel in the Greek Army for 28 months.
In 1981, after examinations at the Ministry of Justice, he graduated as the first successful student with a grade of "excellent" and was appointed Bailiff at the Chios Court of First Instance. At the same time, after five years of study at the National Conservatory of Athens, he graduated with a degree of "excellent".
Political Career:
1990: elected first Municipal Councilor in the Municipality of Homeroupolis
1994: Elected Prefectural Councilor of Chios
1997: Chairman of the Committee for Economic Development and Employment of the Prefecture of Chios until 1998
1998: Deputy Mayor of Chios until 2000
2000: Chairman of the Prefectural Council of Chios until 2002
2004: President of the Port Fund of Chios until 2012
2007: President of NODE Chios and member of the Central Committee of New Democracy until 2010
2010: elected Regional Councilor in the North Aegean Region
2014: Member of Parliament for Chios of the New Democracy
2014: Deputy Regional Head of the Chios Regional Unit until 2019
2019: Mayor of Chios

Additionally:
It was President and Μember of Cultural Associations and other bodies. From 1987 and for twelve years he offered from institutional positions of the Holy Metropolis of Chios to the ecclesiastical issues. At the same time, he was continuously Elected Secretary General of the Reserve Officers of Chios for seven three years from 1990 to 2011, as well as an elected member of the Association of Prefectures of Greece from 1995 to 1998.
Marital status
Stamatis Karmantzis is married, has 2 children and 4 grandchildren.