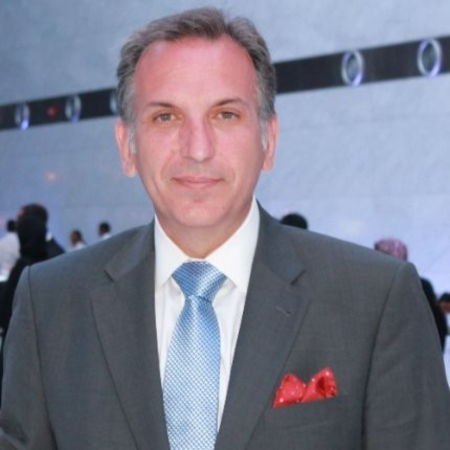 Vice President BoD, ALTUS LSA
General (ret.) Taxiarchis SARDELLIS was born on March 7th 1962 in Athens, Greece.  He is an Executive Consultant with extensive experience in Strategic International Relations and Defense Planning, wide exposure in leveraging extensive networks of diplomatic defense and foreign partners. He is considered an exceptional problem-solver, very successful in producing top performing teams and  demonstrates a unique combination of human resources motivation and project management skills. Currently holds the position of Vice President in BLACKSUMMIT FINANCIAL GROUP as well as being the Vice President of ALTUS LSA, the first Greek company that provides unmanned aerial platforms (drones).
 During his 32 years of successful military career, he served at various command levels in Infantry units and Special Operations Forces (Special Forces, Airborne, Air Assault), Army General Staff positions, the Greek Ministry of Defense as Director of International Relations and the NATO HQ in Greece as Exercises and Training planner. He was the first Liaison officer of the Hellenic Army to the US Army Training & Doctrine Command (TRADOC) and from 2009-2012 he served as Defense and Military Attaché to the Greek Embassy in Washington DC. He represented Greece's national interests in multilateral meetings and deliberations on draft resolutions and reports, and other policies related to NATO, UN, OSCE guidance and international cooperation as well as   international relations. Provided valuable insights and proposed policies and initiatives for defense and security to members of the U.S. Congress on Capitol Hill, and major think-tanks, including the Council on Foreign Relations, Center for Transatlantic Relations (Johns Hopkins University), the Woodrow Wilson International Center for Scholars, Center for International and Strategic Studies, the Hudson Institute, Atlantic Institute and NESA. Provided tailored training for selected officers or cabinet members of various non-NATO countries including Switzerland, Romania, Ukraine, Albania, Armenia, Azerbaijan, aiming to develop military cooperation with these countries and to facilitate their accession and adjustment to NATO and subject matter expertise on the reform and development of defense Institutions and recommended the organizational design (structure, job descriptions, staffing, design and implementation of SOP's) for the Ministry of Defense of Montenegro, Serbia, Switzerland, Armenia. 
He has successfully completed all the professional development courses of the Greek Army and holds a BA on Military Science from the Greek Military Academy, a Post Graduate Diploma on Defense Studies from the Greek Army Supreme College, an MSc on Strategic and Diplomatic Studies from the NATO Defense College in Rome and he is currently attending an MSc program on European and International Studies at the National and Kapodistrian University in Athens, Greece.  
He graduated from the US Army Chemical Officer Basic Course – Ft. McClellan, Alabama, the US Army Infantry Officer Advanced Course – Ft. Benning, Georgia. He has attended various courses (Senior Officers Policy, Crisis Management, CIMIC, Peace Support Operations Staff Officers Orientation, Multinational Joint Logistics Centre, Combat Readiness Evaluation) at the NATO School in Oberammergau, Germany,  the Seminar on "21st Century Governance in an Era of New American Leadership" by the Kennedy School of Government, Harvard University and multiple seminars on globalization, security challenges and risks, assessment of various geostrategic regions.  
He is a certified paratrooper, speaks fluent English and Italian, has lectured at Ney York University as well as Georgetown University, Center for Security Studies, on the Balkans, focusing on political and economic developments in the region, energy security, international relations and NATO enlargement. 
He has been awarded several medals and distinctions such as : 
Knight Gold Cross of the Order of Phoenix, Gold Cross of the Order of Phoenix, Gold Cross of the Order of Merit, Medal for Military Valor, Medal for Meritorious Command and Staff Officer Service Commendation Medal awarded by HE the President of the Hellenic Republic 
NATO non-article 5 Operations Medal, awarded by HE the Secretary General of NATO 
U.S Army Legion of Merit, awarded by the Secretary of Defense and the Secretary of the Army   
U.S Army Meritorious Service Medal, awarded by the Secretary and Chief of U.S Army 
Belgian Army Parachutist Badge, awarded by the Belgian Army Parachutist School.