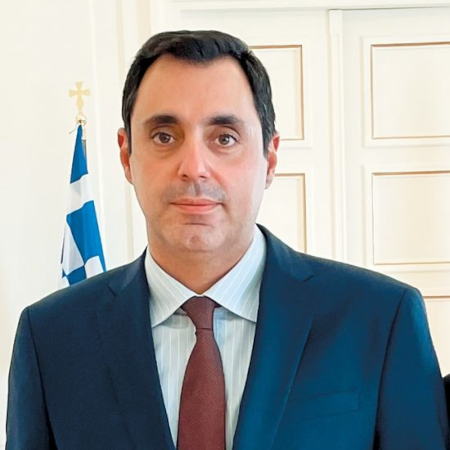 Secretary General for International Economic Affairs & Chairman of Enterprise Greece
Mr. Ioannis Smyrlis is a political scientist, graduate of the Department of Political Sciences and Public Administration with a Postgraduate Diploma in International and European Relations from the University of Athens (EKPA).
He represented the Ministry of Interior during the rotating Greek Presidency of the EU in 2013-2014. He was Press and Public Relations Consultant of ODIE SA. in 2009-2010, Adviser to the General Secretary of the Ministry of Shipping in 2007-2009 and Adviser to the General Secretary of S.E.P.E. in 2005-2007.
He was elected as the first president from Greece of the Youth Organization of the European People's Party (YEPP) 2007-2009, the largest political Youth Organization in Europe.
He served as Secretary of International and EU Relations of New Democracy Party and a Member of the Political Bureau of the European People's Party (ELK) in 2013-2019. During that time, he cultivated personal relationships with major stakeholders in Brussels and other European capitals.
He was a European fellow of the German Marshall Foundation of the USA and a member of the EU Youth Assembly for the European Constitution (2003), the Hellenic Society of Political Science (E.E.P.E.) and the Hellenic Society of International Law and International Relations of the Aegean Institute for the Law of the Sea and Navigation.
He has been a freelancer since 2009 in activities related to catering, trade and import-export.
He speaks English and French.