Spilios Livanos
Minister for Rural Development and Food, Hellenic Republic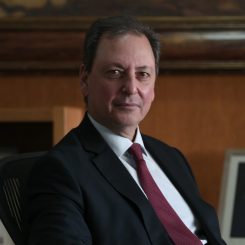 Spilios Livanos was born in Athens in 1967.
He graduated from Athens College. He studied Economics and Political Sciences at the University of Massachusetts, Amherst, USA and International Relations and Comparative Political Analysis at the University of Reading, UK.
He was employed at the European Commission's Social Fund in Bruxelles, then moved back in Greece as an executive on corporate development of private enterprises. In 2002, he founded a construction and real estate management company operating in Greece and Belgium.
In 2007 he was elected for the first time Member of the Greek Parliament. In 2009 he was appointed Deputy Secretary of Political Planning of New Democracy and in 2013 Secretary General of Political and Strategic Planning of New Democracy.
In 2016 he was appointed Special Counselor for Entrepreneurship to the leader of New Democracy, PM Kyriakos Mitsotakis. In 2019 he served as Parliamentary Representative for New Democracy in the Greek Parliament.
He was a member of the Standing Parliamentary Committee on Cultural and Educational Affairs, the Standing Parliamentary Committee on Economic Affairs, the Special Standing Parliamentary Committee on the Financial Statement and the General Balance Sheet and the implementation of the State Budget.
On the 4th of January 2021 he was appointed Minister of Agriculture, Rural Development and Food.
He speaks English and French. He is married to Domna Kyrzopoulou, lawyer with whom shares three children, Dionysis, Danae and Alice.