Spyridon Spyridon
Managing Director, Hellenic Agency for Local Development and Local Government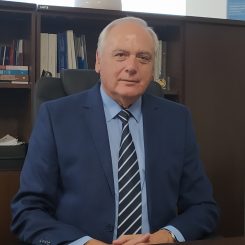 Dr. Spyridon holds a bachelor degree in Mathematics from the University of Athens.His postgraduate studies focused in Computer Science, he has a PhD and he is a Professor of Public Governance in the University of Panteion.
Currently, he serves as the C.E.O. of the Greek Company for local governance and local development, a body included within the General Governance.
He developed significant business practices in the Sectors of Tourism and Education. In the Politics Sector, he was mostly engaged in the field of development in a Local, Peripheral, National and European Level.
He has been promoted and served in positions coming with high and crucial responsibilities not only in a domestic level within Greece, but also within the European Union, such as:
Positions in a domestic Level – Greece:
       

Secretary – General of the Decentralized Governance of the Aegean.

       

Secretary – General ofthe region of Western Greece.

       

Mayor of Poros Island for 16 years.

       

Special Advisor to the Defense Minister.

       

Leader of the Major Opposition of the Athens-Piraeus Super-Prefecture.

       

Member of the National Councils of Competition, Development and Tourism.

       

Member of the Board of Directors of the self-governance bodies known as KEDE (Central Union of Municipalities of Greece), PEDA (Peripheral Union of Municipalities in Attica Region) and ENPE (Association of Greek Regions).

       

Member of the Executive Committee of the Athens Organization

.This organization

is responsible for the comprehensive and executive management of spatial, urban and environmental issues for the entire Attica Region.

       

Also served as Vice President of the Association of Island Municipalities and Communities of Greece and President of the Association of Island Municipalities of the Saronic Gulf
Positions in the E.U.
       

Member of the National Delegation to the European Committee of the Regions.