Spyros Kiartzis
Director of Communications & Corporate Affairs, Athenian Brewery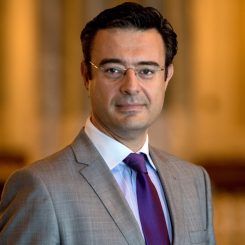 Dr. Spyros Kiartzis is the New Technologies and Alternative Energy Sources Manager, for the Hellenic Petroleum Group. He brings years of environmental and renewables advocacy leadership experience to lead Hellenic Petroleum Group's clean energy efforts. Specifically, he is working to implement a comprehensive plan that will increase the use of renewable energy and decrease Group's carbon footprint, promoting new technologies in the energy and transport sector. 
Dr. Kiartzis was born in Thessaloniki, Greece, in January 1969. He received his Diploma and his PhD in Electrical Engineering from the School of Engineering; and his degree in Economics from the School of Law and Economics; all from the Aristotle University of Thessaloniki and finally his MBA from the Hellenic Open University. Following a period in the construction sector supervising restoration projects in Mount Athos, he served as a part-time instructor in the University of Western Macedonia and in the International Hellenic University. His research interests are in industrial power systems, in renewable energy, in energy economics and in energy sector deregulation policy.
He joins the Hellenic Petroleum Group in 2001 where he held a range of posts in maintenance and project construction sections (including the Project Management Team for the construction of a 390 MW CCPP), before becoming Manager of New Technologies and Alternative Energy Sources. He is Managing Director of ElpeFuture an e-mobility service provider (Subsidiary of Hellenic Petroleum Group), and also Managing Director and Vice Chairman of Energiaki Pylou-Methonis SA a wind park owner. He is also member of the Board of Directors of "ELPEDISON S.A." and "Hellenic Petroleum Renewable Energy Sources S.A." (Subsidiary of Hellenic Petroleum Group) and has served as member of the Board of Directors of "EKO Bulgaria S.A." (Subsidiary of Hellenic Petroleum Group). 
He also serves as a member of the board of directors or consultant in the technical and financial sector. In the past, he has also worked as an expert for European Union and various Greek State Authorities. He is married and he has three children.