Stelios Kympouropoulos
Co-founder of Independent Living Organization of Greece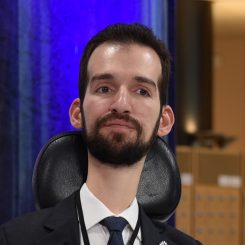 Stelios Kympouropoulos was born on July 9, 1984 in Athens, Greece. He is a psychiatrist, a politician and a social activist. He has been a Member of the European Parliament and a member of the European People's Party Group since 2019. 
He is a member of the Committee on Employment and Social Affairs, of the Delegation for relations with the Mashreq countries and of the Delegation to the Parliamentary Assembly of the Union for the Mediterranean. In addition, he is a substitute on Committee on Regional Development and on Subcommittee on Human Rights. He is also a member of Disability Intergroup of the European Parliament.
He is also a member and co-founder of Independent Living Organization of Greece – i-living, the first organization that promotes Independent Living in Greece.