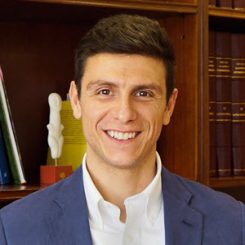 Stelios Rallis is an economist, holding an M.Sc. from the University of Piraeus, Department of Industrial Management and Technology.
A seasoned executive in the field of public administration for many years, he has held the post of Special Adviser in the General Secretariat of Information and Communication at the Ministry of Digital Policy, Telecommunications and Media since 2015, until his appointment as Secretary General in August 2017.
Passionate about technology and the way it transforms people's lives, he brings his energy and vision to the General Secretariat by aiming to help eliminate distance and other divides, empowering people to participate in the political processes that affect their lives by providing greater access to government information; promoting civic engagement, and helping provide development opportunities, including a boost in innovation and the startup community.