Theodoros Skylakakis
Alternate Minister of Finance, for Fiscal Policy, Hellenic Republic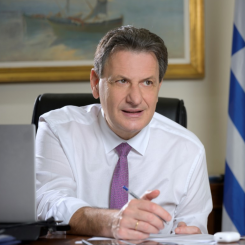 Theodoros Skylakakis is an economist born in Athens 1959.
He is a former MEP (2009-2014), member of the Committees on the Environment, Public Health and Food Safety, on Budgetary Control and also of the Special Committee on Organized Crime, Corruption and Money Laundering. Substitute member of the Committees on Industry, Research and Energy, on Economic and Monetary Affairs as well as of the Special Committee on the Financial, Economic and Social Crisis.
2006-2009 he was appointed General Secretary of International Economic Relations and Development Cooperation at the Ministry of Foreign Affairs. From 2003 to 2006 he was Deputy of the Athens Mayor, Deputy Mayor for Finance and responsible for the preparation of Athens for the Olympic Games 2004. He also served as Chairman of the Organization of Tourism and Economic Development Company in 2005-2006. From 1990 to 1993 he served as Advisor to the Prime Minister Constantinos Mitsotakis and Head of the Office of Planning and Communication of the Prime Minister.
He was also President and General Director of the Research Center E21 (1994-2001). From 2014 he is elected President of Drassi Party which has suspended operations in order to support New Democracy.
He has worked in advertising and communication since 1985 and has founded and managed four companies in the fields of communication (1994-1999), crisis management (2000-2006), agriculture and processing (2014-2019).
He has studied economics at the University of Athens and Management (MBA Degree) at the City University of London. He holds a Diploma from the British Market Research Society in Marketing Research as well as a PhD from the Dept of History and Philosophy of Science of the University of Athens on the matter of social tolerance to corruption.
He is married to the lawyer Helen Papapanou and they have two daughters, Marianna and Irene.