Yiannis Charalabidis
Professor, Department of Information & Communication Systems Engineering, University of the Aegean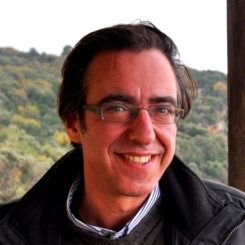 Yiannis Charalabidis is Full Professor of Digital Governance at the Department of Information and Communication Systems Engineering, University of the Aegean, based in Samos, Greece.  He is the founding director of the Digital Governance Research Centre, coordinating policy making, research and application projects for governments and enterprises worldwide. He is heading the Innovation and Entrepreneurship Unit of the Aegean University, and the MSc on Digital Innovation and Entrepreneurship, in collaboration with National Technical University of Athens. 
He has more than 25 years of experience in designing, implementing and managing complex information systems, 10 of which as executive director in SingularLogic Group, leading the 500-staff software products unit and its expansion in Greece and Europe.  
He has published more than 10 books and 300 papers in international journals and conferences, and actively participates in international scientific and policy making bodies. Yannis has been teaching as an invited professor at UC Berkeley, TU Delft, Stevens Institute NY, State University NY, University of Washington, City University Hong Kong, Swinburne University Melbourne and Wollongong University in Australia. 
In 2016, he was ranked as the 8th most prolific author in Digital Government, among 10,000 authors of the domain, by the Washington University survey. In 2018, he was included in the "100 most influential people in Digital Government", by Apolitical Group.