Yioula Tsiknakou
Head of the Hydroelectric Projects Department at TERNA ENERGY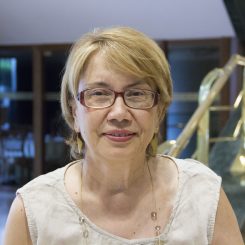 Mrs. Yioula Tsiknakou is the Head of the Hydroelectric Projects Department at TERNA ENERGY. Her expertise in the hydroelectric power sector in Greece spans in a period of over 30 years. She has been with the Group since 1999 after having served at PPC for many years, being responsible for the design, strategy and economic evaluation of hydroelectric projects as well as energy and planning.
As head of the hydroelectric projects department, Mrs. Tsiknakou is responsible for the operational hydroelectric plants of TERNA ENERGY, for the maturity of new projects such as the pumped storage project in Amphilohia (680MW), the hybrid project of Amari in Crete (89MW of wind and 93MW of pumped storage) or the hydroelectric project of Avlaki (90MW) as well as several small hydro projects. Moreover, she is responsible for business development, participation in tenders and evaluation of new growing opportunities for the Group.
Mrs. Tsiknakou holds an MSc in Civil Engineering from the National Technical University of Athens and an MBA from Lavern University. She has numerous scientific publications and is a member of several professional bodies.