Meet our RGC 2023 speakers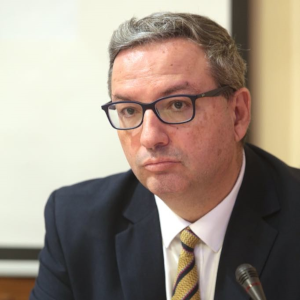 Director, Public & Media Communication, Hellenic Federation of Enterprises
He holds a degree in Chemical Engineering from NTUA, followed by a postgraduate course at the University of Piraeus – Department of Business Administration. He is a "Certified Quality Technician" of the American Society for Quality Control.  Mr. Vergados has worked for 15 years as director of the special publications and studies division of a Business-to-Business Intelligence organization, covering issues of industrial development and investment, total quality management, logistics management, automation systems, packaging, and others. 
He was an associate Press Officer in the Presidency of the Hellenic Republic (1997-1998). He has been honored with the "Leon Mela 1994 – 1995" journalistic prize, awarded by the FGI- Federation of Greek Industries.  
Mr. Vergados is a member of several technical, business and journalistic associations:  the Technical Chamber of Greece (TEE), the Panhellenic Association of Chemical Engineers (PSCM), the American Society for Quality (ASC), the Greek Section of the Union of European Journalists (AEJ-GREEK SECTION), the NED CLUB (Greek Club of Non-Executive Members of the Board of Directors), as well as an alternate Member of the Plenary Session of the Economic & Social Committee of Greece (ESC).
He is married and he has two sons. 
Sign up to our newsletter
Sign up and keep up to date with the latest news & articles of the conference.